Density of an absence
This project was born following an invitation from the painter Edouard Vallet's foundation in Vercorin (Switzerland). It is inspired by the literary works of Homer (The Odyssey) and Charles-Ferdinand Ramuz (Derborence).
Among various works created around this theme, the centrepiece is a "video-engraving", namely an animated film made from different prints of engravings. The approach may seem paradoxical, as the two techniques that it associates are a priori opposed: on the one hand engraving presenting a classic, rather static aspect and on the other the movement of animation. The interest lies in the singularity of the image given to the animation in large format and in an evolving way by the character of the line and the renderings of the engraving. It is a slow transformation of shots worked very freely, a kind of visual choreography.
"Density of an absence"
video, length 14 min.
Originial music from Quentin Sirjacq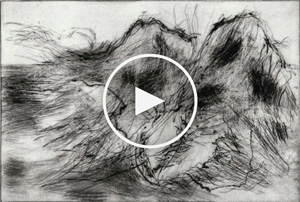 "In the shadow of Ulysses, the sky would have been less vast, humans less strange, days shorter. Children less heartbreakingly beautiful, the world less enigmatic. Too eager to answer, you would not have found the time to question … "
Annie Leclerc
Excerpt from Toi Pénélope (You Penelope) éditions Actes Sud
"Strange power of re-presentation that runs from Homer to Ramuz: the evocative force of those who wait and transfigure the lack. And it is this extreme attention of the seismograph that drives the images of Guy Oberson, black chalk or oil. Another quivering world is reconstituted before our eyes, like a cascade of atoms from which emanates a flow of energy.
Beings and things little by little take shape again on the screen of the canvas. This vibration of the visible, this fascination with the second existence, I have experienced in his works.
There is a ghost story here … "
Jérôme Meizoz
Excerpt from L'Absence et la Ruse (Absence and Cunning)
Published in Densité d'une Absence, Edouard Vallet Foundation, Vercorin, 2018
« Density of an Absence » was the subject of a solo exhibition at Edouard Vallet Foundation, Vercorin, Switzerland, 2018
http://www.edvallet.com/ev5/spip.php?article49